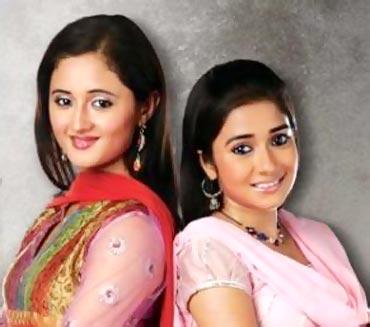 As the year draws to an end, we look at the most popular Hindi shows on television, that got the maximum TRPs.
Gone are the days when serials went on for years. Today, channels give the producers about three months to shape up or ship out their serials. If a show runs for three months, it is reason enough to pop the champagne. It's not a channel war any more; it is one show versus the other.
Let's take a look at some of the most popular shows of 2010.
Uttaran
The Colors show about two childhood friends, Ichcha and Tapasya, who grow apart due to the latter's jealousy and insecurities, has gone from one dramatic episode to another.
From Tapasya taking Ichcha's place in the
shaadi ka mandap
to marry Veer, to Veer's older brother Vansh's marriage to Ichcha, from his death to Ichcha and Veer finally getting together, and now to Tapasya returning to ruin Veer and Ichcha's happiness yet again, this show has managed to stay afloat and keep the flag high for the channel.
Image:
A scene from Uttaran
Read More - http://www.indiforums.com/forum/most-popular-television-shows-2010-t17253/index.html