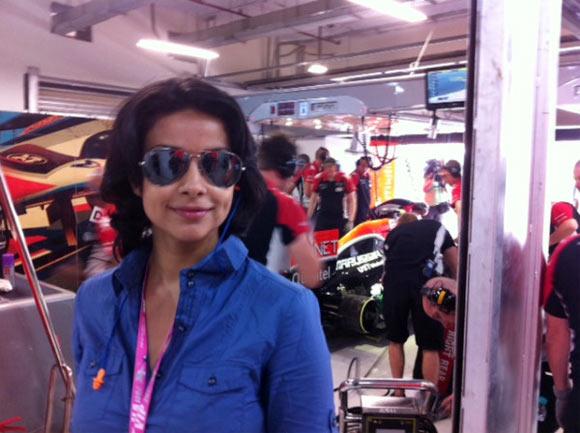 As India hosts its first Formula One Grand Prix this weekend, B-town celebrities are getting all ready to sizzle at the event.
Gul Panag,who hosted the opening ceremony last night, shared a picture (left) on twitter.
Ace photographer Atul Kasbekar was present at the event, and tweeted: 'Now hoping to accidentally bump into @GulPanag in this #F1... (If she was a #Lakers #Arsenal #Cricket n #AllBlacks fan, she'd b perfect;-)' he tweeted.
International artists like Lady Gaga, Heavy-metal band Metallica and Boy George will be performing at various parties.
Arshad Warsi hopes to attend the Lady Gaga show. 'Gd mrng ppl of the world... I am in Delhi n I can't make it for the F1, how unfortunate is that. Gonna try n make it 4 d lady Gaga show,' he wrote.
Vishal Dadlani is looking forward to seeing Metallica. 'Pentagram's flying into Delhi just to see Metallica tomorrow. Homage to lotsa metal memories! Dead excited about seeing 'em together! :D' he tweeted.
Click Here For More Images
http://www.preeto.org/showthread.php?5329-Bollywood-s-celebrities-gear-up-for-F1
--